Twitter built into the Opera browser
Access Twitter right in your browser's sidebar. Explore and tweet conveniently with a better view on desktop.
Download now It's free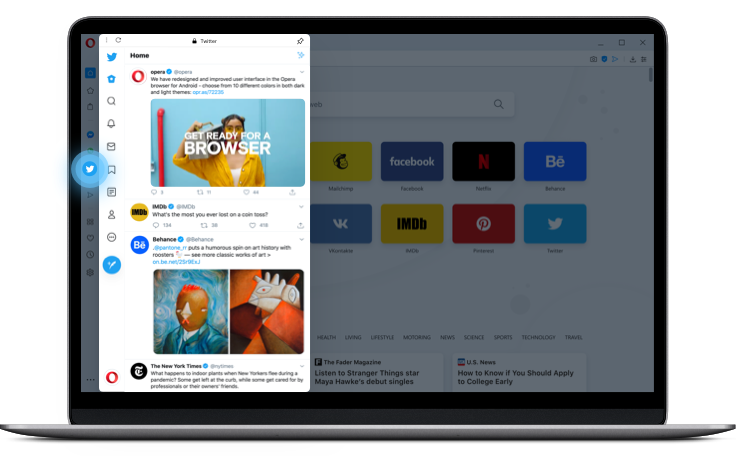 Benefits
Twitter right in your sidebar means you can tweet, explore and DM with ease on desktop.
Convenient
Keep Twitter at hand, so you can easily follow people and keep up with news without switching tabs or devices.
Fast
Scroll and type quickly while using Twitter, and direct message friends from the comfort of your computer.
A better view
Enjoy images, GIFs and videos on a large screen and search on Twitter with better navigation.
Smoothly transition
Pin the Twitter sidebar panel so it's always visible, and keep an eye on Twitter while you browse the web.

Chat in Twitter
Direct messaging
Keep up with private conversations and group chats with Twitter in your sidebar.

Integrated Twitter
Search faster
Find the latest news and world events faster without mobile apps or devices.

Full Access
Get all of Twitter
Tweet, explore, direct message, and use all of Twitter's tools more conveniently on desktop.

Sign in
Easy access
Enable Twitter in Opera's sidebar panel and sign in to check notifications and join the conversation.
Explore and tweet conveniently with a better view on desktop
Navigating Twitter in the Opera browser
With Twitter integrated into the Opera browser's sidebar, you can do everything you normally do, but from the comfort of your computer. Below are the main sections you will see when you open Twitter in Opera, and what you can do with them.
Tweet
Type a message for everyone to see - up to 280 characters. You can also tweet an image, GIF, poll, and emojis, as well as schedule a tweet to be posted at a specific time and date.
Home
This is your main Twitter feed. Here you can see the most recent tweets from the Twitter accounts you follow, along with recommendations. You can also comment, retweet, like or download with each tweet.
Explore
Twitter's explore section presents you with trending hashtags, subjects, people, photos or videos. It's also where you can search Twitter for specific topics.
Notifications
The Twitter notifications timeline lets you see your Twitter interactions chronologically. Click the gear icon to set a Quality filter, set Advanced filters, or mute Twitter notifications by key words or phrases. Notifications in the timeline include:
Your tweets that have been liked or retweeted
Replies to your tweets
Mentions of you in tweets
New Twitter followers
Logins to your Twitter account
Messages
The Twitter messages section is where you instant message your Twitter contacts for private conversations or have group chats in Twitter.
Bookmarks
Bookmarking tweets on Twitter lets you keep them for later so you can comment or review them at a more convenient time. When you bookmark a tweet, it shows up in the Twitter Bookmarks section.
Lists
You can create Twitter lists in order to see a specific stream of tweets from Twitter accounts you choose. Lists can be public or private, and you can subscribe to other people's Twitter lists.
Profile
Your Twitter profile is where you and others can see your tweets, replies, media and likes, as well as details about your Twitter account.
Topics
The Twitter Topics section is where you can follow certain subjects so that you see tweets related to them in your main Twitter feed.
Moments
Twitter Moments let you connect multiple tweets into a slideshow-style story that can be pinned, liked, retweeted or embedded like normal tweets. The Twitter Moments section is where you can create moments, or see those that you've created.
Discover Opera's features
Get to know the Opera browser better and do more on the web!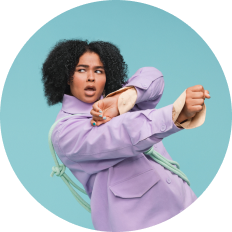 You deserve a better browser
Free VPN, ad blocker and Flow - Just a few of the must-have features built into Opera for faster, smoother and distraction-free browsing.