Sync your Opera browsers
Sync your bookmarks, tabs, passwords - whatever data you choose - across all your devices.
Download now It's free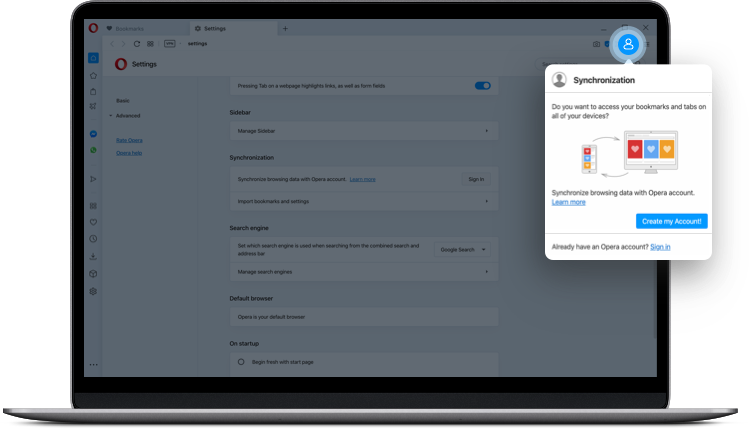 Benefits of data syncing
Opera Sync is an easy way to synchronize your choice of browser bookmarks, Speed Dials, history, passwords, and open tabs across multiple devices.
Easy setup
Simply create an Opera account, turn on the Sync feature, and choose which browser data you want to have synchronized.
Streamlined
The data you select will automatically be synchronized with any device you sign in on. Sign out a device to desync.
Manageable
You can select and manage exactly which information is synced between devices. Reset and remove your data anytime.
Private
Your data is secured and private. The Opera servers only keep an anonymous token to identify you and sync your data.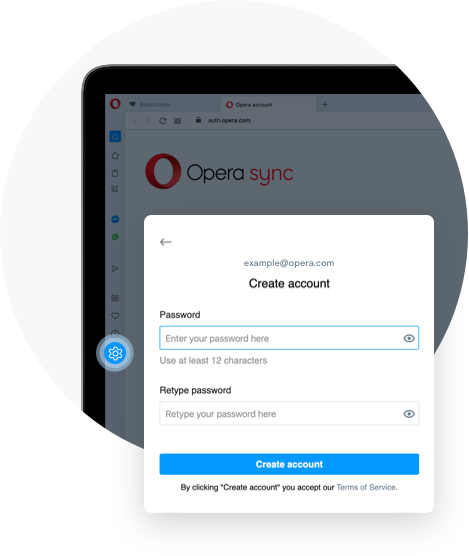 Benefits
Setup is as easy as 1, 2, 3
Create an Opera account (make sure you have a strong password).
Log into your account in Opera on all devices.
See your browsing data sync automatically until you log out.
For more detailed instructions and information about Opera accounts, please visit our Help page.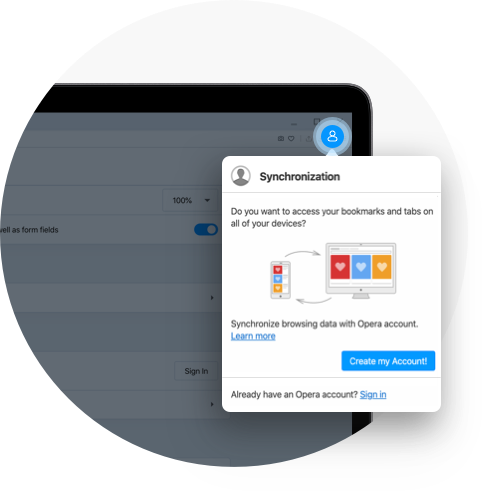 Synced data
What browsing data does Opera for computers sync?
Favorite sites on the Speed Dial, open tabs from all devices, typed browsing history, passwords.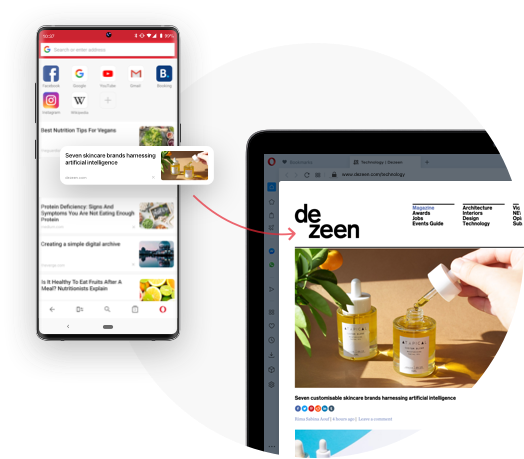 Mobile devices
Android user?
You can sync bookmarks, tabs, Speed Dial entries and history in Opera for Android. In Opera Mini for Android, you can sync bookmarks, open tabs and Speed Dial.
Sync your browsing data in Opera
Sync your browsing data in Opera
When you switch between several computers and smartphones, you don't have to worry about losing track of an interesting web page. Learn how to sync bookmarks, favorite sites on the Speed Dial and tabs to keep important browsing info at your fingertips in Opera.
Say you find a useful site, or something you want to read later. With your Bookmarks synchronized in your Opera browsers on all of your devices, you can return to it on your home computer, tablet or phone. Didn't bookmark it? If you choose to sync your browser history, you can get back to it from there. And, on the subject of operating with multiple devices, you might want to check out Opera's Flow feature.
Use your Opera account
We use an Opera account to synchronize your browser data. That way, if you want to add a new device, all you have to do is sign into your account using the computer, phone or tablet you want to add. Equally, if you want to stop synchronizing a device, you can simply sign out from that device. Once you sign back in, the data in the browser sync categories you've selected will be pushed to the Opera browsers on your other devices, so make sure to remove anything you don't want synced beforehand.
If you don't already have an Opera account, go to the Opera account sign-up page. All you need to do is enter an email and create a password. Alternatively, in your Opera browser, you can also go to Settings > Synchronization, click Sign in, followed by Create my Account.
Manage your browser synchronization
You can select which kinds of data Opera syncs between browsers on your devices. To do so, first sign into your Opera account, then:
Go to Settings.
Scroll down to Synchronization and click Advanced sync settings.
Select the data categories you want to sync.
Visit our Help page for instructions on how to see and manage the specific browser data that is synced (bookmarks, Speed Dials, history, passwords, and tabs).
If you'd like to reset and delete your browser sync data, visit the Opera sync page.
Discover Opera's features
Get to know the Opera browser better and do more on the web!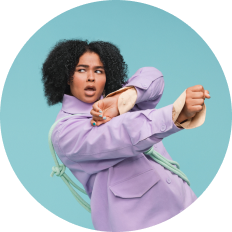 You deserve a better browser
Free VPN, ad blocker and Flow - Just a few of the must-have features built into Opera for faster, smoother and distraction-free browsing.