Benefits of integrated messengers
Having built-in messengers in your browser makes your online life just that much easier.
Popular messengers
The most popular messengers - Facebook Messenger, WhatsApp, Telegram, and VKontakte - are available in your Opera sidebar.
Integrated
The messengers in Opera are fully-integrated, so you can message, chat, and share photos as you would in a separate extension or messenger app.
Connected
You can get messenger notifications right in your sidebar and never miss a message, unless you want to. Mute or log out when you need to.
Pin chats
Pin your messenger chats to browse and chat side-by-side, seamlessly. You can pin or unpin your messenger with a single click.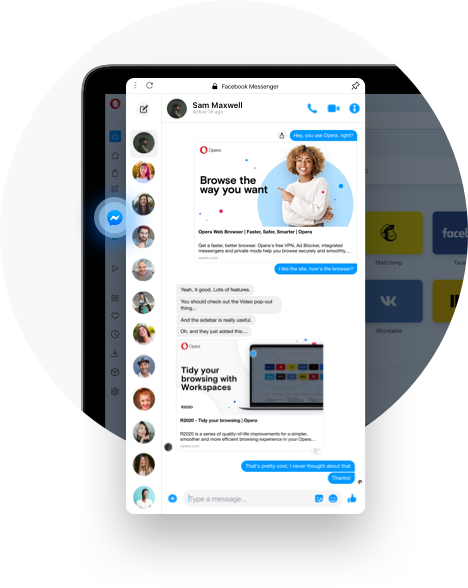 Facebook messenger
Facebook Messenger in Opera's sidebar
Stay connected with all of your Facebook friends in your Opera sidebar. Use Facebook Messenger for instant messaging and group chats, as well as sharing photos, videos and audio recordings. Receive notifications and chat with friends directly in your browser.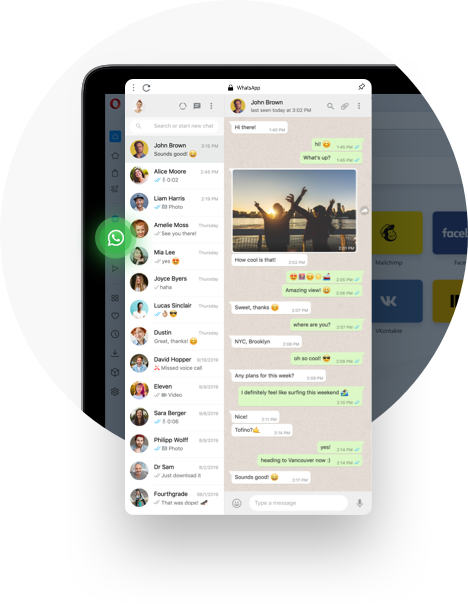 WhatsApp
WhatsApp messenger lets you send texts and voice recordings, make phone calls, and share documents and other media with WhatsApp users in individual or group chat. Having WhatsApp messenger integrated with your sidebar in Opera means that you never miss a message.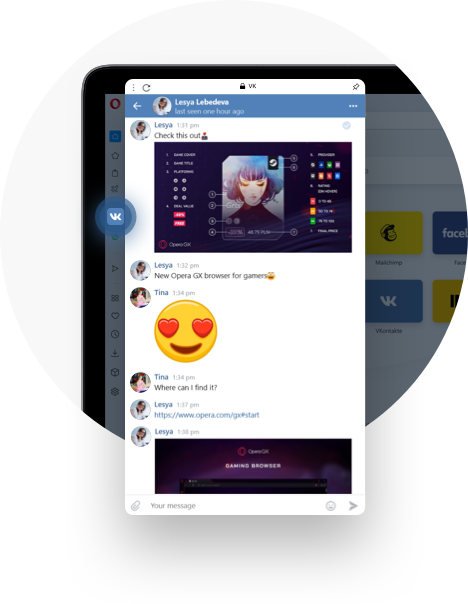 VKontakte
VKontakte in Opera's sidebar
VK Messenger, for the popular Russian social networking service, enables both public and private messaging. Users can communicate with friends and colleagues, send voice messages, and share photos and documents. This can now be done within your Opera browser, without switching apps.

Telegram
Telegram in Opera's sidebar
Telegram is a fast and simple cloud-based messaging app that syncs with your mobile and other devices using your phone number. Send messages, photos, videos and files easily and for free. Telegram is now available directly in your sidebar in Opera, making frequent messaging more convenient.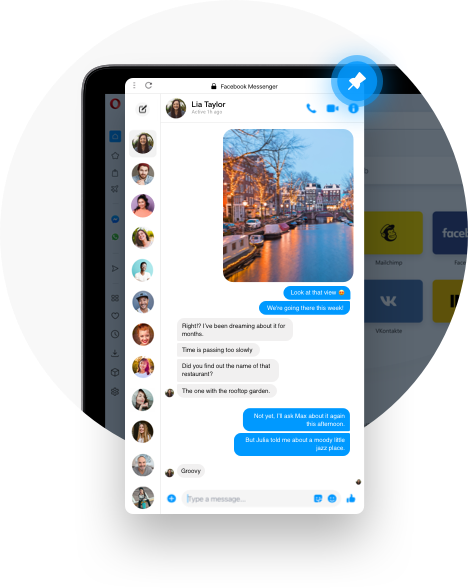 Pin chats
Pin your chats
Keep your messengers at hand by pinning them with the pin icon. Thanks to this feature, you can carry on chatting while browsing the web.
Chat and browse at the same time using messengers in Opera
Make your online life easier
The modern browser is your control center for navigating the web. At Opera, we are developing our browsers to include the features and tools you need, all in one place. It's all about making your online life a little bit easier, and much more convenient. Integrated messengers are a great example, simply because we use them so often. And those who don't are just missing out.
Stay focused
The best part about having Facebook messenger, WhatsApp, Telegram, and VK in Opera, is that you don't have to switch back and forth between different apps, or download a separate messenger app. And since they are right in your sidebar, you don't have to keep checking whether you've missed a message. Instead, messenger chat notifications will appear in the sidebar of your browser, right in your peripheral vision - which makes it easier to focus on what you are doing.
Messenger control
If you want to actively use a messenger and browse webpages at the same time, like most people, you can pin your chat in one click. Pinning it will divide your browser window so that there's no overlap between your messenger and your tabs. You can adjust the size, unpin it with one more click, or even mute it or log out easily. The Opera browser comes with built-in features for convenience, and gives you control over them. For more ways to organize your internet control center, learn to use Opera's Workspaces, as well as the Video pop-out feature.
Discover Opera's features
Get to know the Opera browser better and do more on the web!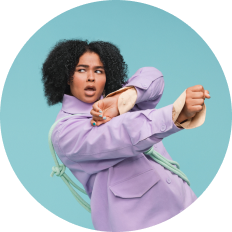 You deserve a better browser
Free VPN, ad blocker and Flow - Just a few of the must-have features built into Opera for faster, smoother and distraction-free browsing.