Unit converters
Built-in currency, measurement, and time zone converters in the Opera browser convert unfamiliar numbers and times with a simple highlight.
Download now It's free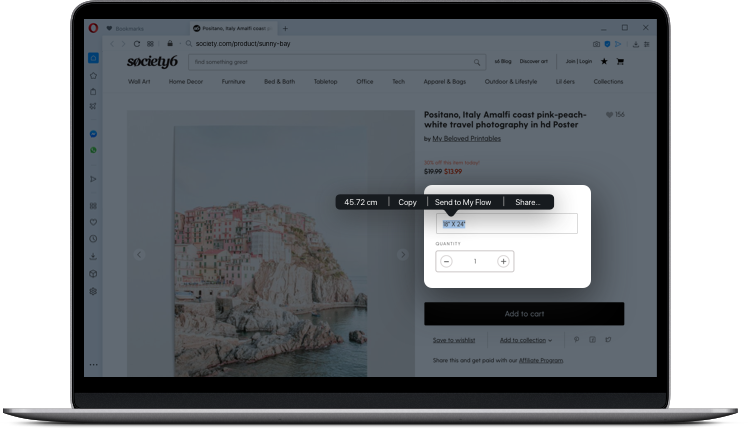 Unit Converter Benefits
The Unit Converter tool is an easy-to-use and convenient tool that saves you time and effort.
Useful
Whenever you're reading the news, doing research, shopping, making travel arrangements, or simply browsing the web - Opera's Unit Converter tool is great to have on hand.
Convenient
The Unit Converter tool is built right into your Opera browser. There's no need to search for a conversion webpage, copy/paste the relevant information, and search menus for the right currency or unit.
Quick
Since it's integrated into your browser already, you can convert currencies, measurements, and time-zones with a quick highlight.
Easy
Unit Converter is easy to use and does the work for you - with precise conversions and current currency exchange rates.

Currency conversion on the fly
Shop at online stores around the world without worrying about nasty surprises on your credit card bill. Opera's built-in currency converter supports several currencies with updated rates from the European Central Bank and the National Bank of Ukraine.

How tall, heavy, fast, or far away is that thing you want?
Crafting a seasonal beer for the winter, but don't know how much 4 oz of yeast is in grams? Unsure if your 20 x 30 cm poster from Paris fits a 10 x 16 in frame from California? Travelling and don't know how far 258 mi is? A simple highlight of these strange values and times in Opera will convert them into a familiar form.

Don't confuse a start time of something important!
Need to check what time locally your hometown football club is playing at a 20:00 GMT kickoff while traveling in Moscow? Can't be late for a 9:00 EST conference call with clients in New York when you're in Prague? Highlighting a distant time zone will adjust it to your local time.
Currency, unit, and time zone converters
Currency converter
Highlighted currency conversion helps you keep things simple - with no need to go to a currency converter webpage or do math. Opera will convert foreign currencies like CAD to USD, Euro to Rupee, the British Pound to Japanese Yen or any popular foreign currency with the current rate of exchange.
Currency converters are especially useful for planning trips, reading international news, online shopping, reading business reports, writing school papers and anything involving money - which is quite a lot. Foreign exchange rates are updated. Just make sure you are highlighting both the number and the currency symbol or abbreviation, like 120.37 GBP, 250 EUR, JPY 702, or 8,089 BTC. Cryptocurrencies are included in the currency converter.
Convert currencies, measurements and time-zones automatically
Like all of Opera's built-in features, Unit Converters are tools designed for efficiency and convenience. When you highlight text on a webpage, a menu pops up with various options and information, including conversions. There are three categories - currency converter, units of measurement converter, and time zone converter.
Unit converter
Automatic unit of measurement conversion in Opera gives you one less thing to worry about. Highlight imperial or metric units and you will see its counterpart in the pop-up menu. Again, just make sure you are highlighting both the number and the measurement symbol or word, such as 132 lb, 150 pounds, 25kg, 94 mph, 150 kilometers per hour, 21 feet, 10yd, etc. You can also convert Celsius and Fahrenheit. This feature makes it so much easier when you're planning a trip, doing homework, writing papers, reading about foreign countries or simply browsing the web.
Time zone converter
Opera's integrated time zone converter is a simple quality-of-life feature that really comes in handy when you need it. If you're reading an article online and find an unfamiliar time, like 16:20 NST or 4:00 AM EST, just highlight the time and the time-zone abbreviations (CET, JST) and it will be converted to your local time zone.
Any of the converted values can be copied to your clipboard by hovering your mouse pointer over the conversion and clicking the revealed Copy button. Enjoy browsing made just a little bit easier with the Opera browser converting currency, measurements and time zones for you.
Setup and enable Unit Converters
To make sure that Unit Converters are enabled:
Go to Settings (Alt+P).
On the left sidebar, click Advanced and then Features.
Scroll down to Search pop-up, where you can toggle on or off each category - Currency converter, unit of measurement converter, and time zone converter.
Here, you can also select the currency that you would like highlighted currencies to be converted to, like GDP, USD, Euro, JPY, Rupee, Canadian Dollar and even cryptocurrencies.
Discover Opera's features
Get to know the Opera browser better and do more on the web!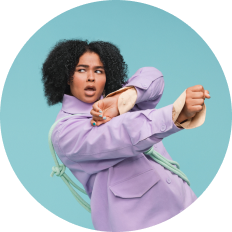 You deserve a better browser
Free VPN, ad blocker and Flow - Just a few of the must-have features built into Opera for faster, smoother and distraction-free browsing.