Ad blocker
New ad blocker - Built into the Opera browser. No add-ons. More browsing speed.
Download now It's free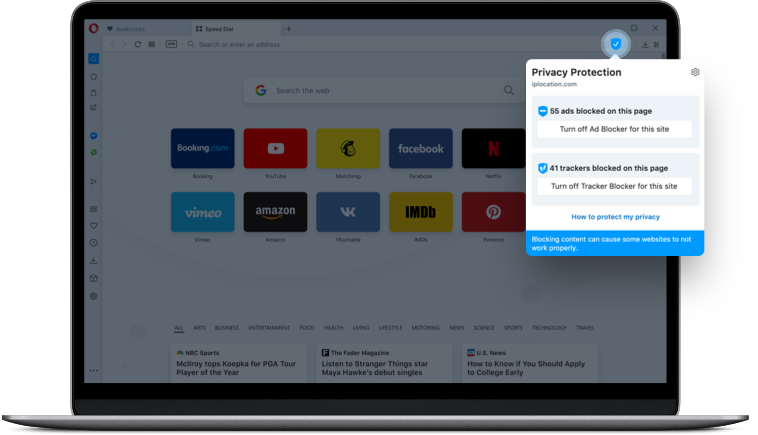 Ad Blocker Benefits
The built-in Ad blocker isn't just about blocking ads. It also protects your privacy and speeds up your browsing.
Block ads
Enjoy cleaner and smoother browsing with less distractions. Stop popups from ruining your experience online and control where you go.
Pages load faster
You'll be amazed how much faster pages load when you use Ad blocker. Run your own test and see the difference.
Built-in
No add-ons or extensions are needed. Enable it in two clicks and start blocking ads right away when you browse with Opera.
Customizable
Easily unblock ads from any site you want. Ad blocker gives you complete control over what ads you see online.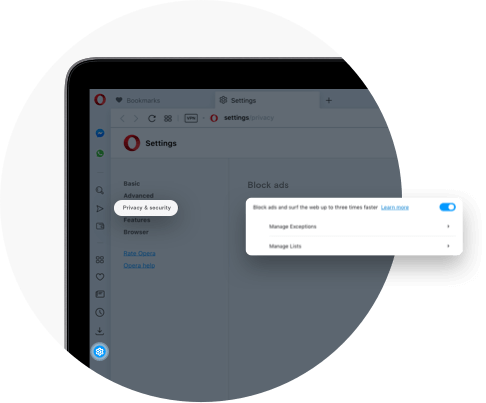 Built-in
No add-ons required
Opera's ad blocker is built right into the browser. No installation and setup required, just turn on ad blocking in the browser settings.
Of course, not all ads are evil. You can easily unblock ads on any website, if you want.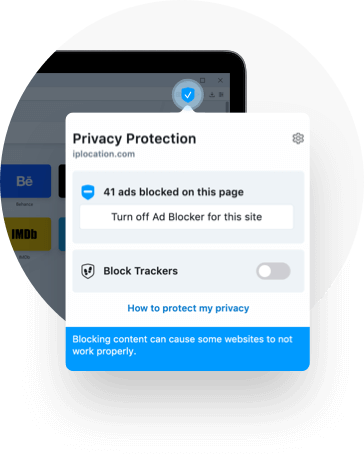 Faster & cleaner
Load pages much faster
Our ad blocker "catches" ads as early as possible, right in the engine, when you first request a webpage. This all happens "under the hood", so all you'll see is how much faster webpages load.
According to our tests, Opera loads content-rich pages up to 90% faster with ad blocking enabled. It's also noticeably faster than the Opera browser combined with various ad-blocking extensions.
New ad blocker - Built into the Opera browser. No add-ons. More browsing speed.
Block annoying ads
Blocking ads makes your browser faster, cleaner, safer, and more private. With Opera, you can use the free Ad block feature immediately, without downloading any extensions.
To enable the feature, click the shield icon next to your address bar and toggle on Block ads. The adblock feature can also be enabled or disabled from the Easy setup menu or directly in your Settings. Opera features adblock plus tracker blocking functionalities, making the web faster, safer, and easier to browse. You can start blocking ads with one click when you download Opera's popular browser.
Allow ads for individual pages
Some websites try to block adblock programs by requiring you to disable them before accessing their site. You don't need to completely disable your adblocker however. With Opera's free built-in Ad blocker you can simply unblock ads for that site while still blocking annoying ads everywhere else. Just click the shield icon to the right of your address bar and select Turn off for this site - this will add the site's address to the list of exceptions.
When the Opera Adblock feature is on, you can add or remove sites from the list of exceptions in your Settings (Alt+P). Under Privacy protection, select Manage exceptions. Add an internet address by clicking Add, and remove web sites through the three-dot menu to the right of each site. With these management options, users have complete control over when you block ads and when you allow them.
Start using Ad blocker
Tired of heavy online ads and slow browsing? Opera will speed you up on the web and make sure ads don't distract you from what matters. Try the first major browser to integrate an ad blocker – no need for add-ons.
Discover Opera's features
Get to know the Opera browser better and do more on the web!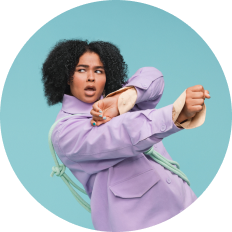 You deserve a better browser
Free VPN, ad blocker and Flow - Just a few of the must-have features built into Opera for faster, smoother and distraction-free browsing.