Browsers for the real you
Download free Opera browsers for computer, mobile, gaming, and data saving. Discover web browsers for everything you do on every device, connected and customizable. See more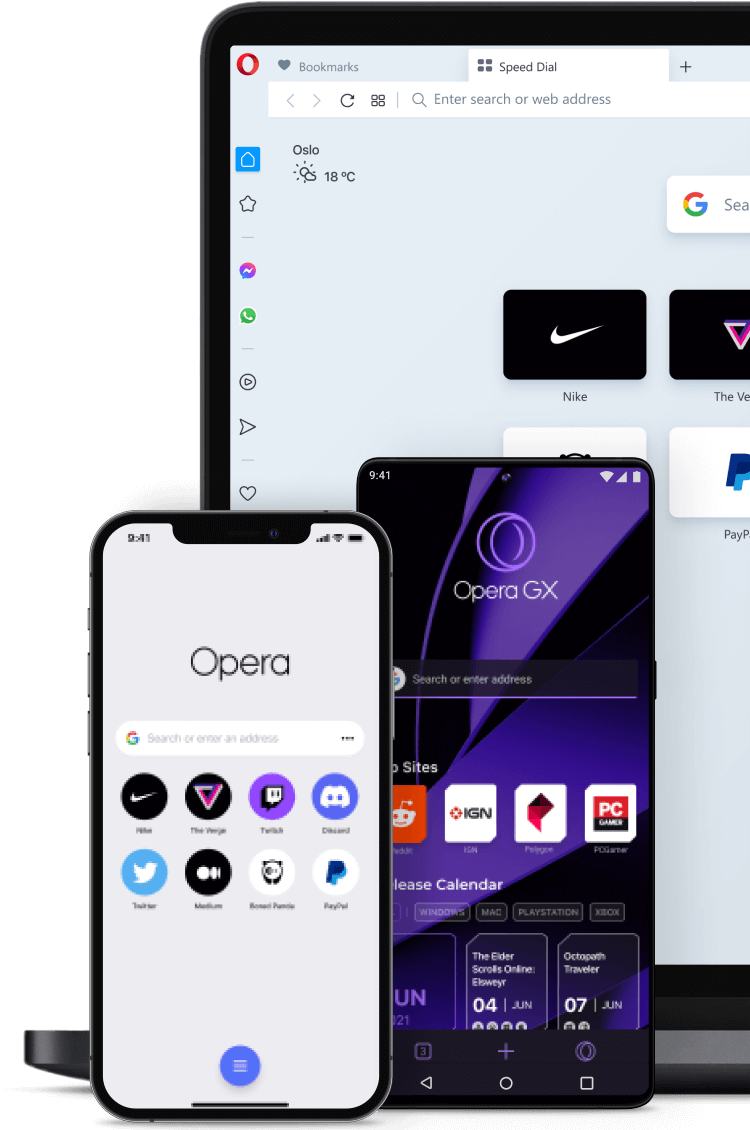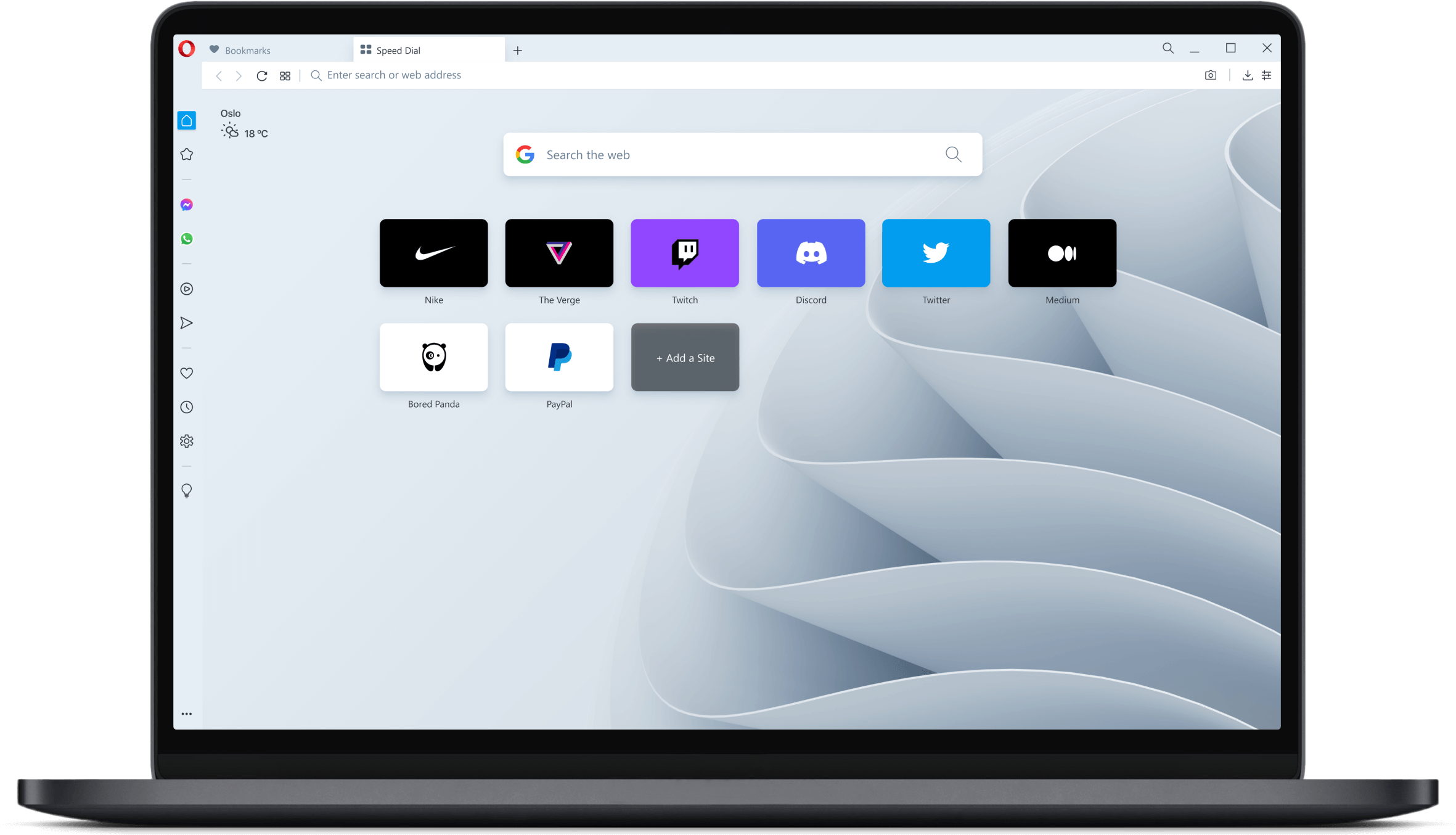 Innovative browser features
Group tabs, share files, stay connected, create pinboards, edit snapshots, pop out videos, play all your music, manage your cryptocurrency - without juggling apps. Explore the browser features you didn't know you needed, and do more in your browser.
Browse faster, safer and smarter. Opera Browser is built for the changing web - block unwanted ads, use a free VPN, connect desktop & mobile browsers, and explore dozens of additional innovations that make Opera Browser truly personal.
---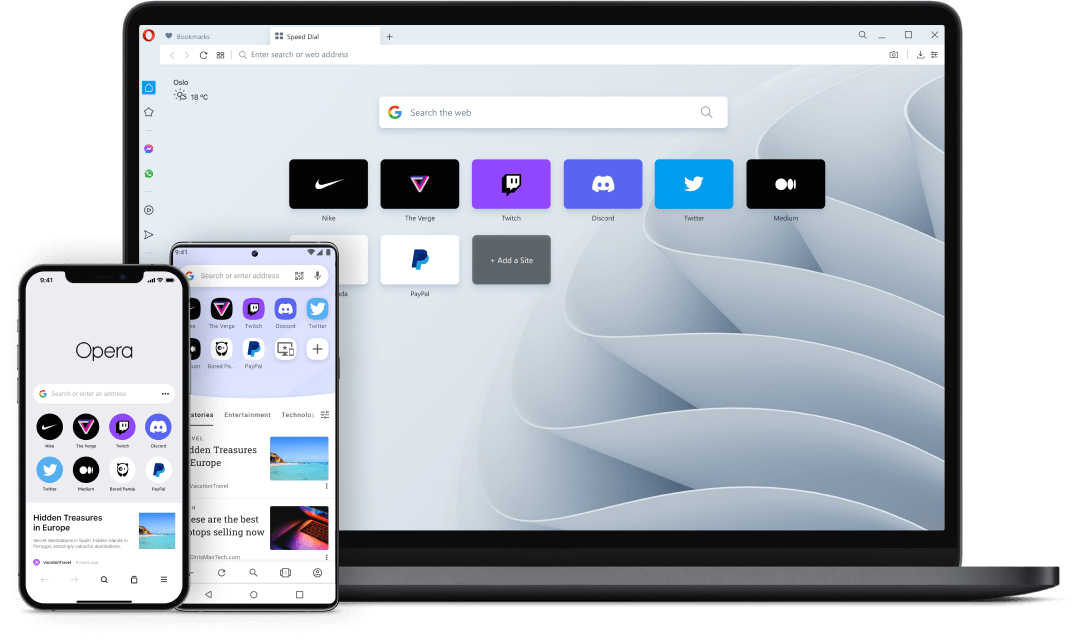 The Crypto Browser builds on the tradition of creating bespoke browsing experiences with a set of browsers for desktop that facilitate access to web3 and clarify crypto activity. Now, the crypto-curious and crypto enthusiasts can learn and discuss web3 in a trusted environment.
---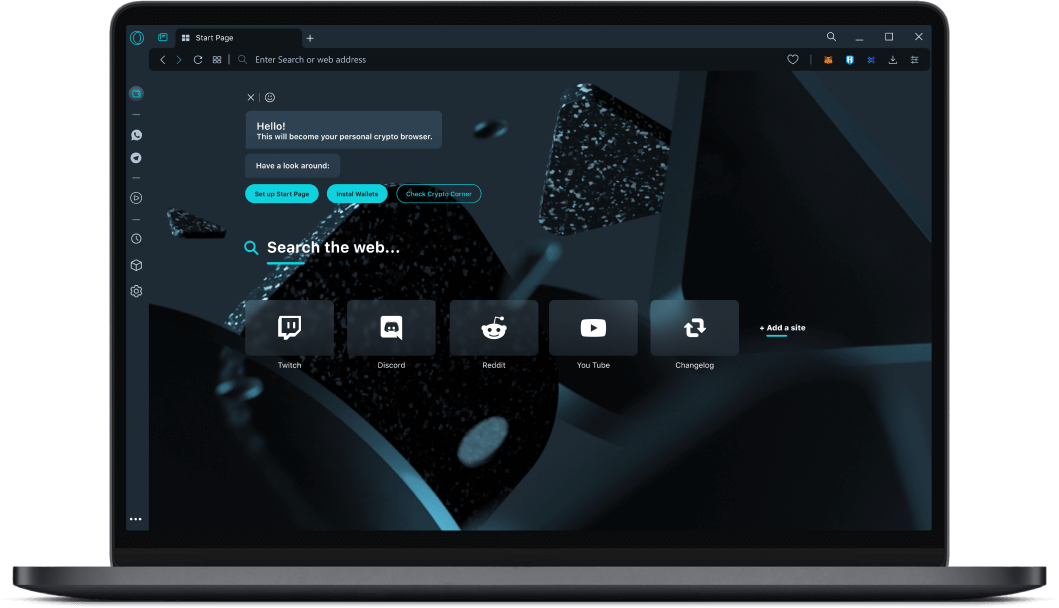 Get maximum content for minimum data and stay connected, wherever you are. Save data, browse privately, get AI-powered news, use an integrated media player, and customize your web browsing - all in one smooth mobile browser.
---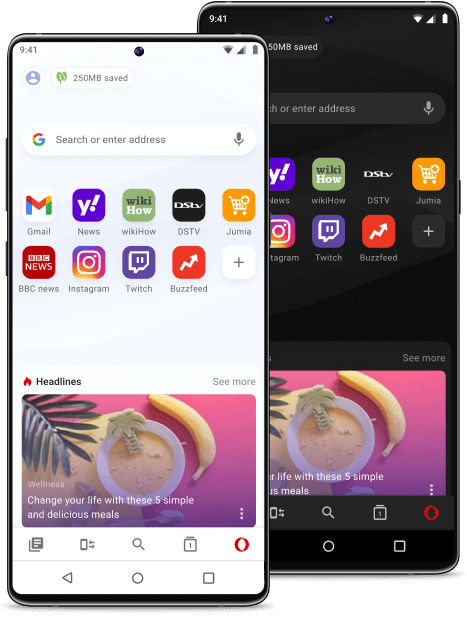 We design Opera browsers the way we want to use them ourselves, offering real solutions for the way we all use the internet. Get speed, security, and constant innovative updates with Opera browsers. You'll be amazed at what you can do with your personal web browsers, tailored for each device and different needs.
Millions of people worldwide choose Opera browsers
---
Browse the web longer
Opera browsers use less resources than Google Chrome, Edge, Firefox or Safari. Plus you get Battery Saver, Ad blocker, and more features that optimize background processes.
Keep your secrets safe
Protect your privacy with Opera's free VPN. Clear browsing history, browse the internet without revealing sensitive data, and automatically block tracking scripts on each page.
Get the latest features first
Opera browsers bring you innovative features with frequent updates to ensure you have the newest and best tools available in any web browser.
Pin it all
Each new tab can be pinned to the tab bar. Put an end to self-closing tabs, and keep all your web pages organized the way you want in your personalized web browser.
Share content instantly
Edit browser screenshots with Snapshot, send ideas visually with Pinboards, and share everything through built-in messengers and social media.
Personalize Opera Browser more
Make Opera browsers truly yours with extensive options in settings, over 2,500 browser extensions from the Opera addons catalog, and Chrome extensions as well.
Do it all in one browser
Stay in touch with friends without switching apps. Features like built-in messengers can be pinned for quick and ready access in your web browser.
Get Opera on all your devices
Download Opera browsers for every operating system - Windows, Linux, Mac, Android, iOS, and Chrome OS. Then share and sync data between web browsers on different operating systems easily.
Enjoy cleaner web browsers
Browse the internet free of pop-ups, organize your tabs in contextual workspaces, and find the best place for tabs & bookmarks in your web browser.
Use any search engine
Set any browser search engine as default - be it Google, Bing, Yandex, Search Encrypt, DuckDuckGo, or any other you prefer for your web browsing.
Ready?
It's time to switch browsers
Opera makes switching web browsers easy, on any operating system for desktop or mobile. We help you import the data you want from your old browser so you can continue browsing the internet without missing a beat.