Free VPN Benefits
Opera's integrated virtual private network helps protect your privacy and reduces tracking. Best of all - it's free.
Browse privately
Browse with a virtual IP address that helps hide your location and lets you view the web with enhanced privacy.
Reduce tracking
Opera's free VPN doesn't just improve your privacy and security, it also blocks many of the cookies that track you online.
Built-in
The free VPN is built right into the Opera browser. There's no need to download any additional extensions or addons.
Free
There's no subscription or payments of any kind. Just download the Opera browser and start browsing privately, for free.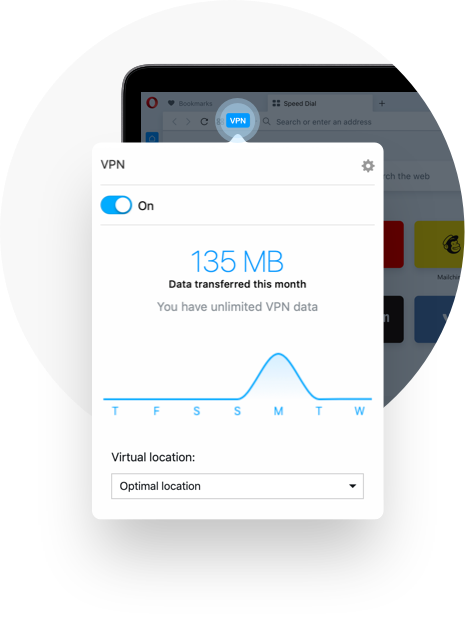 Free VPN
Free, unlimited, and with no subscription
Enhanced online privacy is a right for everyone. Our free, built-in VPN requires no subscription, payment, or additional extensions.

One click
Works out of the box
To activate the free VPN for the first time, enable it in Menu -> Settings -> Privacy -> VPN. From now on you will see an icon on the address bar showing VPN status. Simply click on it to trigger VPN service on and off. You can then select your desired virtual location and also see stats on the data used.
Opera's VPN can also be used in a private browsing window.
Free VPN in Opera browser. Surf the web with enhanced privacy.
Opera's Free VPN service
The best things in life are free, and your privacy and security should be no exception. While free VPNs may be hard to come by, Opera proves that it is still possible to have a secure VPN browser without having to pay and without browser extensions.
How a virtual private network protects you
When you connect to a website without a VPN, the website can see your IP address. However, when using a VPN connection, internet traffic is encrypted and routed through a remote server so the website sees the address of the server, rather than yours. This is especially useful when you get internet access through public Wi-Fi or have an internet connection that is accessed by other devices. The Opera VPN server locations allow you to choose a location that is optimal for you and your internet service provider.
Use a VPN now
Because Opera's browser VPN is built right in, you are able to use it immediately and don't need to download a VPN extension. Get Opera's easy to use browser VPN free of charge when you download the Opera browser.
To enable VPN in Opera:
Go to your Settings (Alt+P).
Select Advanced in the left sidebar, and click Features.
Under VPN, toggle on Enable VPN.
When you enable VPN, you'll see a VPN badge to the left of your address and search bar. Click on the badge and you will be shown an on/off switch, information about the amount of data transferred, your virtual location, and your virtual IP address. There, you can also switch VPN server locations to switch virtual IP addresses. Enjoy the best free VPN built into your Opera browser.
Discover Opera's features
Get to know the Opera browser better and do more on the web!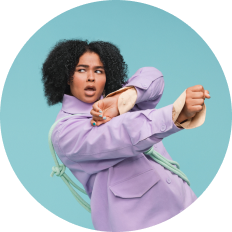 You deserve a better browser
Free VPN, ad blocker and Flow - Just a few of the must-have features built into Opera for faster, smoother and distraction-free browsing.