Benefits of Opera Bookmarks
Opera takes bookmarks ten steps further, allowing you to access, organize, and customize them for ease-of-use.
Visual
Opera Bookmarks can be displayed as thumbnails on your start page - making it quick and easy to get where you want to go.
Personalized
Customize your bookmark images with page previews, a solid color and title, or logo - and rename them too of course.
Adjustable
Drag and drop bookmarks where you want on your start page, even onto each other to create a contextual folder and save space.
Organized
Compartmentalize and edit your bookmarks in the Bookmark panel on your sidebar. Keep them separate in your bookmark bar or on your start page.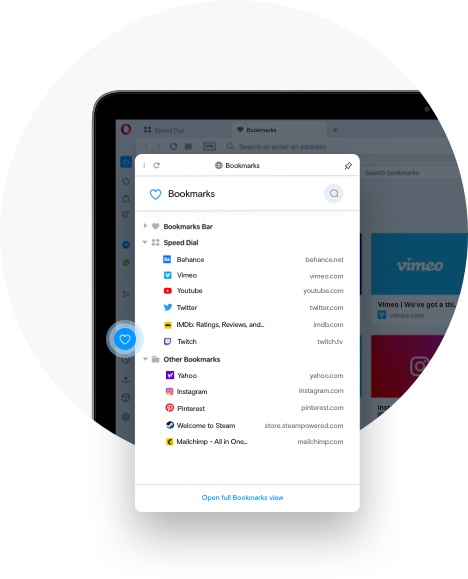 Visual bookmarks
Bookmark manager with page previews
Opera for computers offers visual bookmarks, which you don't get in other browsers. Your favorite sites appear in a gallery with customizable page thumbnails. Depending on how many sites you've bookmarked, you can switch between large thumbnails, small thumbnails and a list view in the bookmark manager.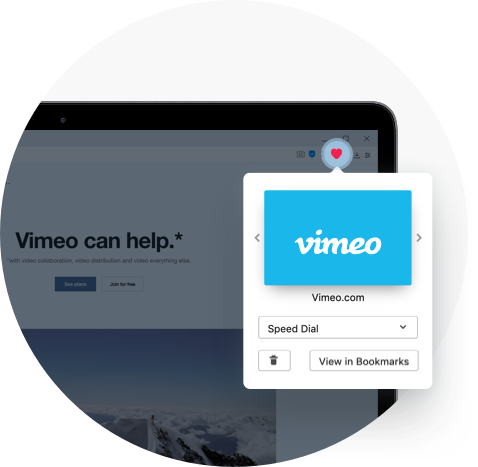 Edit bookmarks
Organize and manage bookmarks with ease
When you add a bookmark, you can pick a thumbnail that makes it easier to spot the page you need. You can place your Opera bookmarks in folders and subfolders and see the structure in a classic tree view. Also, you can add the most important bookmarks to the bookmarks bar for even quicker access.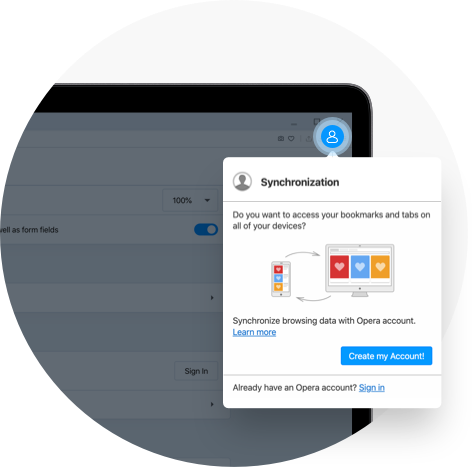 Sync
Different devices, same browser bookmarks
Computers, phones, tablets - your favorite sites will always be at hand, no matter what you're browsing on. Just create an Opera account to sync bookmarks across multiple devices.
Do more with bookmarks in Opera
Do more with bookmarks in Opera
Need to keep track of interesting sites? Bookmarks in the Opera browser will help you easily get back to pages you liked, organize your favorites, and much more.
Bookmarks
Visual bookmarks on your start page are a great way to begin your daily browsing. The colorful, customizable thumbnail shortcuts provide a pleasing and visually-accessible way to get back to your chosen sites. Opera's bookmarks let you easily customize, reorganize, and compartmentalize your favorite pages on your start page or, if you want to go old-school, in a book marks bar across the top.
Create a bookmark by clicking on the heart icon to the right of your address bar. When doing so, you'll get to choose the thumbnail, name, and location of the Opera bookmark you create. You can edit bookmarks again on your bookmark manager page.
Managing bookmarks
All bookmarks are kept in your bookmark manager panel for quick access from the heart icon on your sidebar. You can also open the full visual bookmark organizer page with Ctrl+Shift+B. There you can easily manage, edit, or remove your bookmarks, and you can use the search bar to find bookmarks if you have too many. Deleted bookmarks are kept in the trash until you empty it, allowing you to search for and restore a bookmark if you've accidentally deleted a favorite page.
Bookmark folders let you organize bookmarks in one place, which is really useful for saving space or keeping related and favorite pages together. You can create new folders in your bookmark manager page or on the start page. Open your start page and drag one favorite bookmark onto another to create a new folder and add bookmarks to it.
Import bookmarks
With Opera, you can easily import bookmarks from another browser. You can also export bookmarks from Chrome or other browsers that you've added to Opera as an HTML text file. To import bookmarks:
Open your full Bookmarks manager (Ctrl+Shift+B). Click the Import/Export button in the bottom-left. Choose what you want to import, and the browser you want to import from.
Discover Opera's features
Get to know the Opera browser better and do more on the web!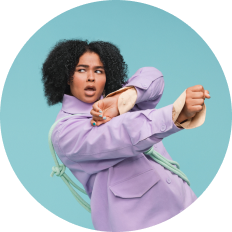 You deserve a better browser
Free VPN, ad blocker and Flow - Just a few of the must-have features built into Opera for faster, smoother and distraction-free browsing.