Unit converters
Built-in currency, measurement, and time zone converters in the Opera browser convert unfamiliar numbers and times with a simple highlight.
Download now It's free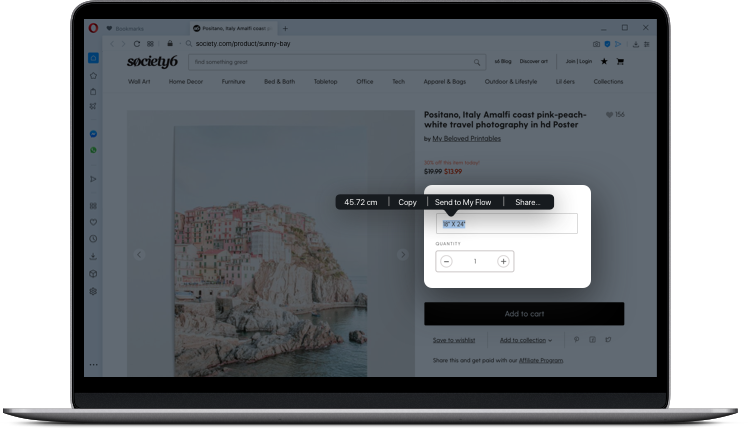 Currency conversion on the fly
Shop at online stores around the world without worrying about nasty surprises on your credit card bill. Opera's built-in currency converter supports several currencies with updated rates from the European Central Bank and the National Bank of Ukraine.

How tall, heavy, fast, or far away is that thing you want?
Crafting a seasonal beer for the winter, but don't know how much 4 oz of yeast is in grams? Unsure if your 20 x 30 cm poster from Paris fits a 10 x 16 in frame from California? Travelling and don't know how far 258 mi is? A simple highlight of these strange values and times in Opera will convert them into a familiar form.

Don't confuse a start time of something important!
Need to check what time locally your hometown football club is playing at a 20:00 GMT kickoff while traveling in Moscow? Can't be late for a 9:00 EST conference call with clients in New York when you're in Prague? Highlighting a distant time zone will adjust it to your local time.
Discover Opera's features
Get to know the Opera browser better and do more on the web!


















You deserve a better browser
Free VPN, ad blocker and Flow - Just a few of the must-have features built into Opera for faster, smoother and distraction-free browsing.