R2020
Tidy your browsing
R2020 is a series of quality-of-life improvements for a simpler, smoother and more efficient browsing experience in your Opera browser.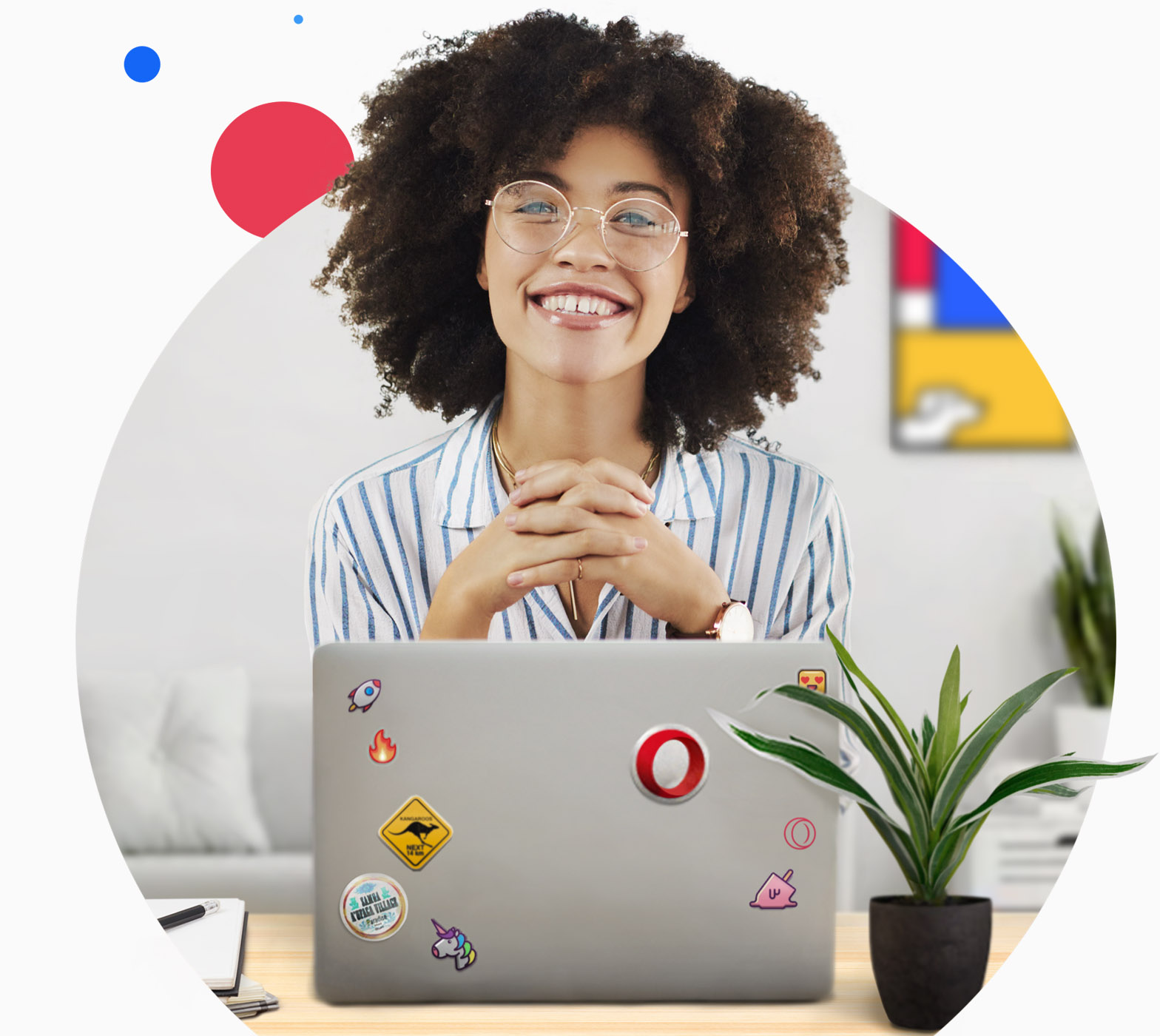 Watch the video to get more tidy and organized

One click
Get organized with Workspaces
Arrange groups of tabs according to your interests - shopping, movies, travel, anything. Work faster with workspaces at the top of your sidebar, and switch between contexts with one click.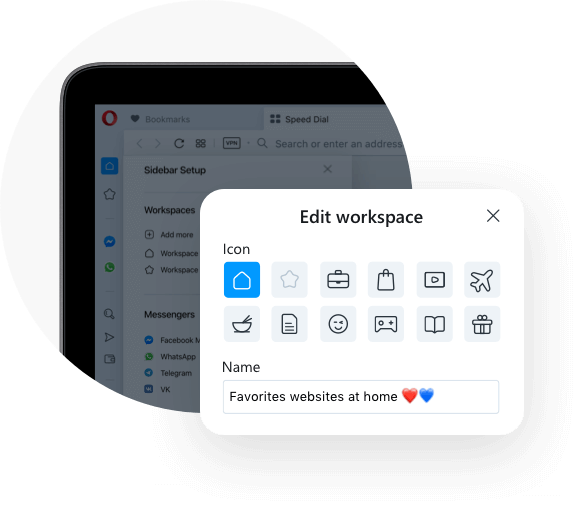 Tame your tabs
Add more workspaces, name them, and choose their icons - customize them for the contexts that are relevant to you. Individual workspaces means less tabs at one time, which simplifies your work and helps you find what you need.
Reviews
A couple of nice words about Opera's new Workspaces feature.
I love it! I'm glad that the feature can be customized. It really helps with my organization.

Annie January 15, 2020

It's so nice to keep tabs separate, this is a great idea. It's a lot faster when I work with less tabs.

Derek January 29, 2020

Great update, everything is easier. I really like being able to put my extensions in the sidebar.

Thomas February 4, 2020

Much easier than before and great to be able to read my tabs instead of clicking on each one.

John February 12, 2020
Enjoy a cleaner, simpler and distraction-free browser
More from opera
R2020 features
Opera's R2020 updates optimize the way you browse with new features, tools, and tweaks.

Workspaces
Organize tabs in groups

Sidebar setup panel
Easily customize the sidebar

Visual Tab-cycler
Quickly see and select tabs

Extensions in sidebar
Keep your extensions close

Tab highlighting
See duplicate and redundant tabs

History in sidebar
Reopen closed tabs easily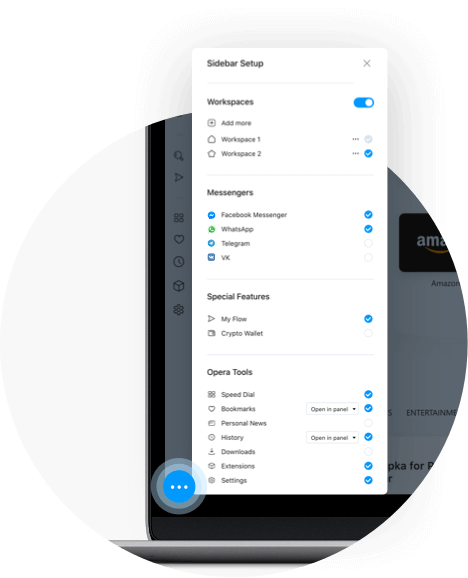 Customizable sidebar
Sidebar setup panel
The organized Sidebar panel makes workspace and sidebar management more comfortable and intuitive. Edit or remove any of the sidebar elements individually.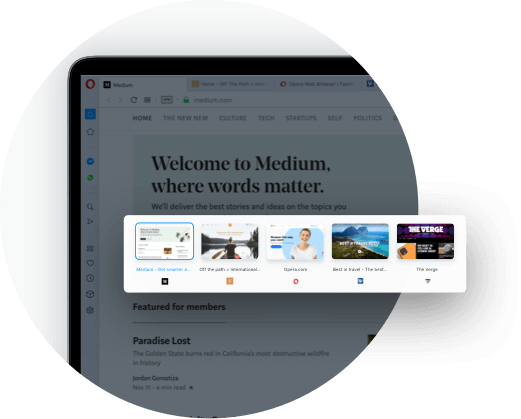 CTRL+TAB
Visual Tab-cycler
Hold Ctrl and click Tab to cycle through a clear visual display of your open tabs. Find tabs easily.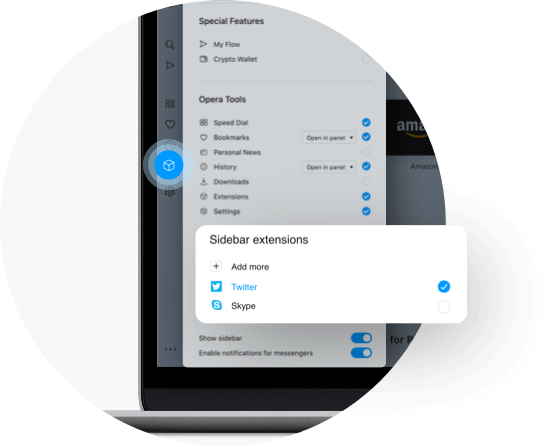 Access extensions
Extensions in sidebar
Extensions are integrated into the main sidebar itself. This gives you easy access to your favorite extensions and streamlines your browser.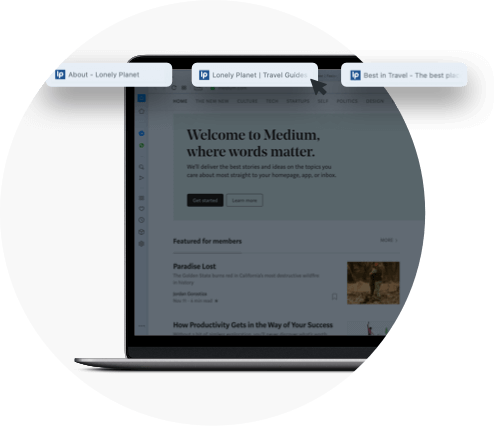 Highlight tabs
Tab highlighting
When hovering over a tab, any tab in the same window and workspace with the same address is highlighted, allowing you to delete duplicate tabs and speed things up.

Access extensions
History in sidebar
Get quick access to your browser history and the ability to reopen closed tabs from a clear, chronological list.
Helpful features
Opera's features and tools
R2020
All of these browser features are part of the R2020 update cycle in Opera. Throughout the year we will be adding more features and quality-of-life improvements designed to streamline and speed up your browsing - from larger organizational features, like Workspaces and the Sidebar panel, to smaller tools for efficiency and speed, like the Tab-cycler and putting History in the sidebar.
Opera
We are always working hard to make sure that the Opera browser includes the useful features and tools that people want. Moreover, we include the features you don't even know that you want, yet. With Opera, you don't just get a standard web browser - you get the latest innovations and future standards that provide a better browsing experience.
Discover Opera's features
Get to know the Opera browser better and do more on the web!









You deserve a better browser
Free VPN, ad blocker and Flow - Just a few of the must-have features built into Opera for faster, smoother and distraction-free browsing.