Opera browser for computers
Better browsers designed for speed, efficiency and protection. See why people are using Opera.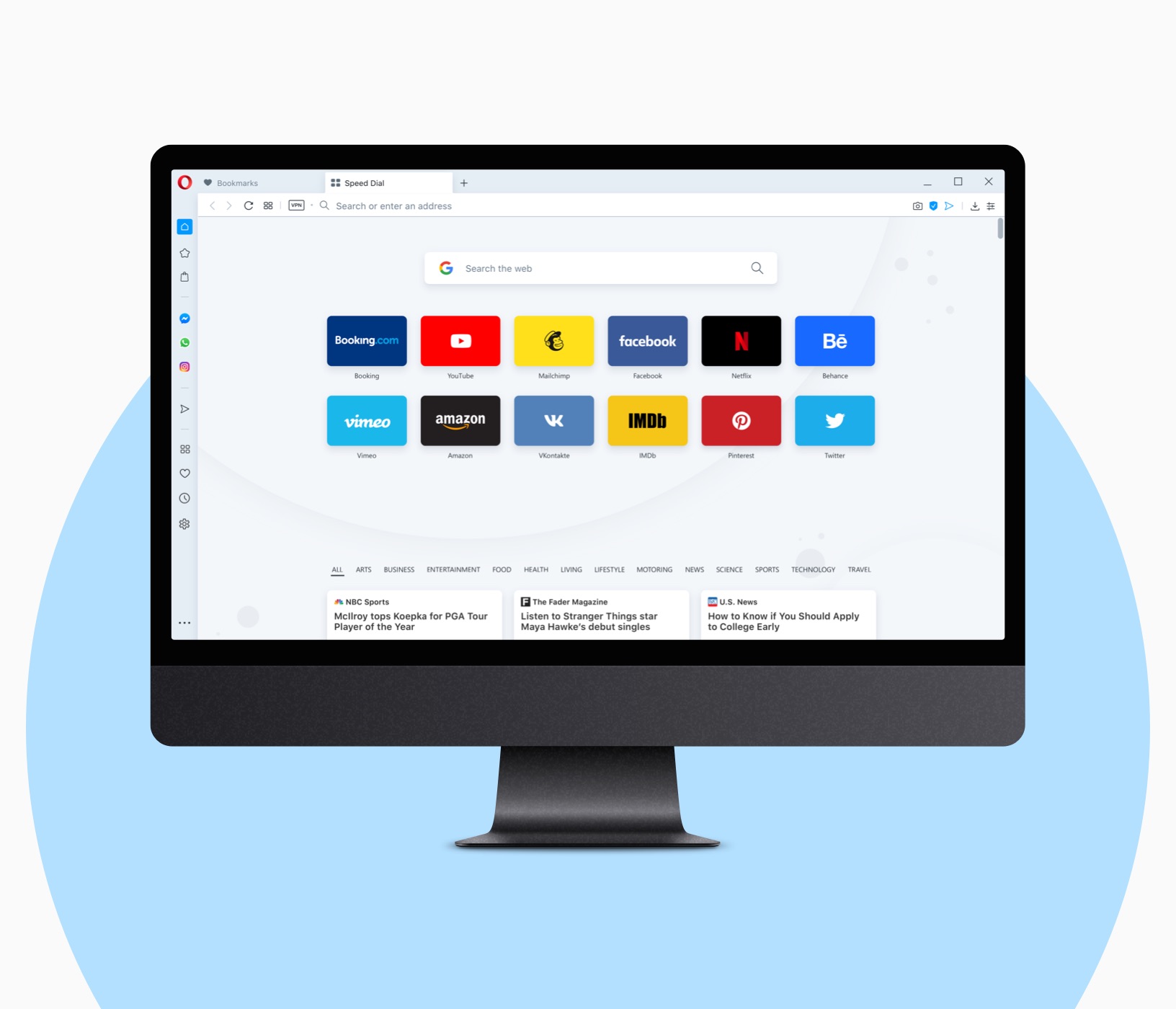 Latest additions
What's new
Check out what's new in the Opera browser for computers
We are always working hard to make sure that the Opera browser includes the useful features and tools that people want. Plus, we include the features you don't even know that you want, yet. With Opera, you don't just get a standard web browser - you get the latest innovations and future standards that provide a better browsing experience.
Benefits
Here are a few of the Opera browser benefits.
Capable
The most useful and requested features are already built into the Opera browser.
Efficient
Opera's quality-of-life tools give you a simpler, smoother and more efficient browsing experience.
Safe
Our ad blocker, tracker blocker, and free VPN reduce online tracking and shield your browsing.
Practical
We make sure that Opera is easy to use, with convenient access to features and tools.
Features
Opera browser features
Take a look at some of the unique and useful features built into the Opera browser.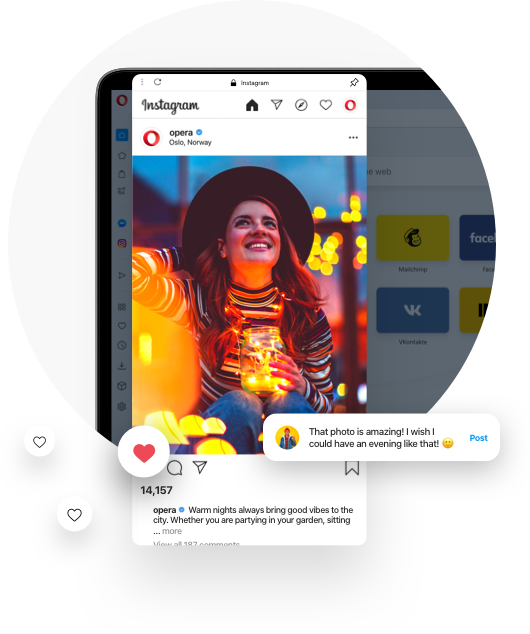 Just log in
Popular social media messengers are integrated into Opera's sidebar. Tweet, watch Instagram stories, and direct-message while browsing.
See more
Safe
Block ads for a cleaner, safer, and more private browser. Ad blocker is built into the Opera browser, so you're good to go.
See more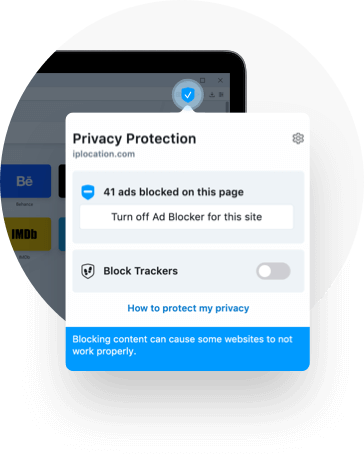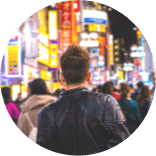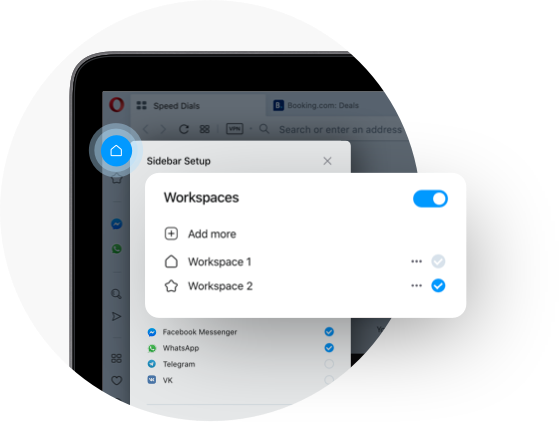 Efficient
Put tabs in separate groups for whatever context you need - music venues, travel, memes, anything. Work faster and switch between contexts with one click.
See more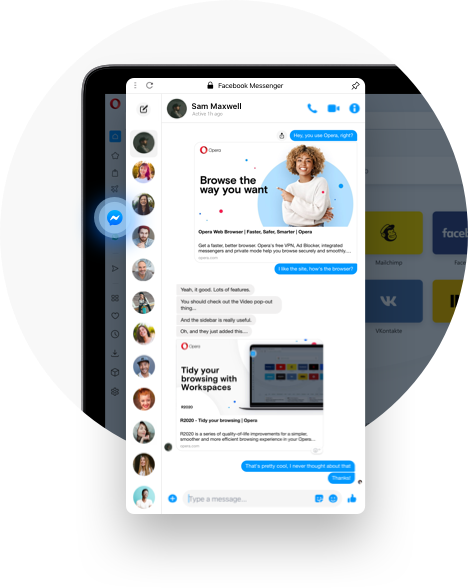 Capable
You can finally stop juggling tabs and apps for browsing and chatting. Now WhatsApp, Facebook Messenger, Telegram and VKontakte are right there in your Opera web browser.
See more
Choose light or dark mode
Adjust the Opera browser to your preferences and browse the web the way you like it.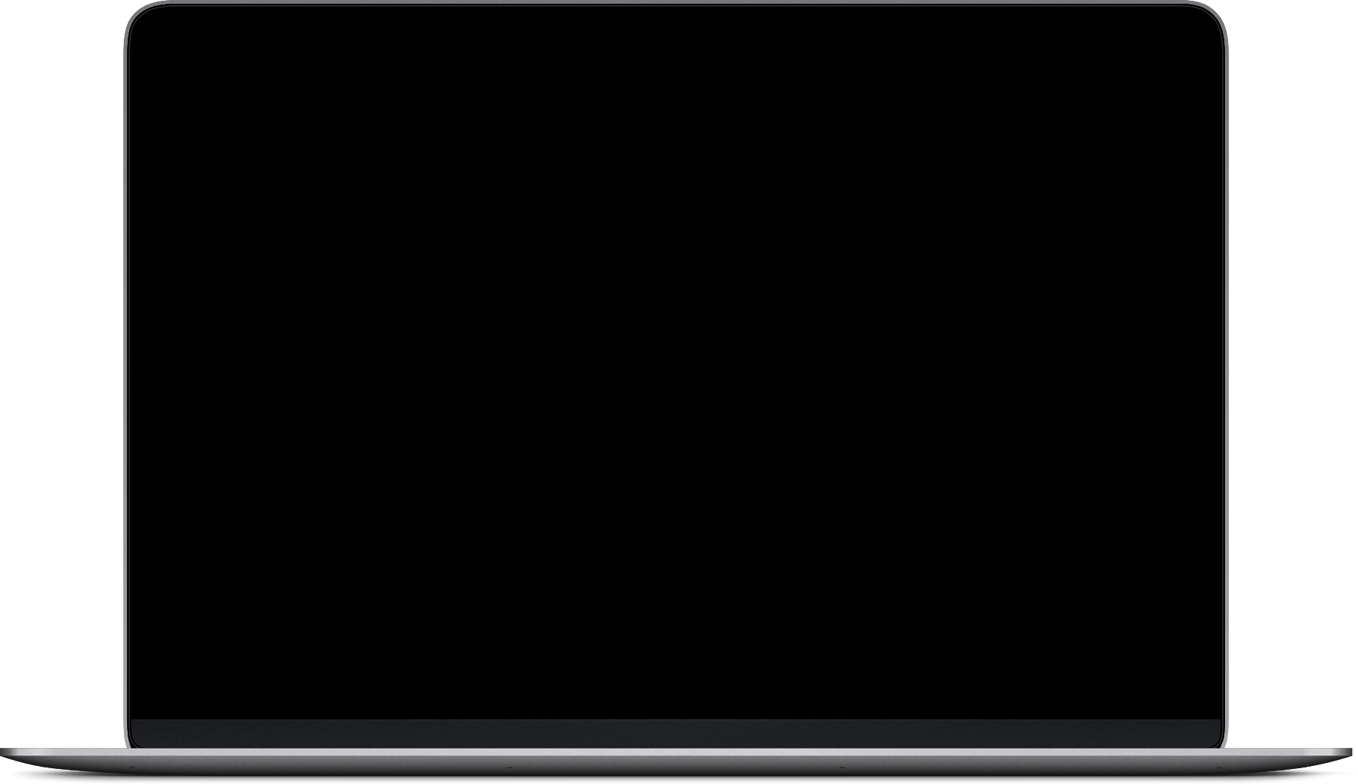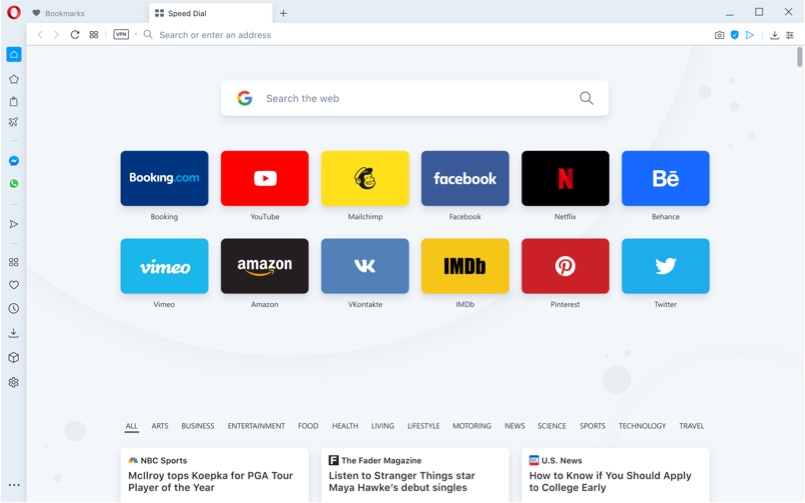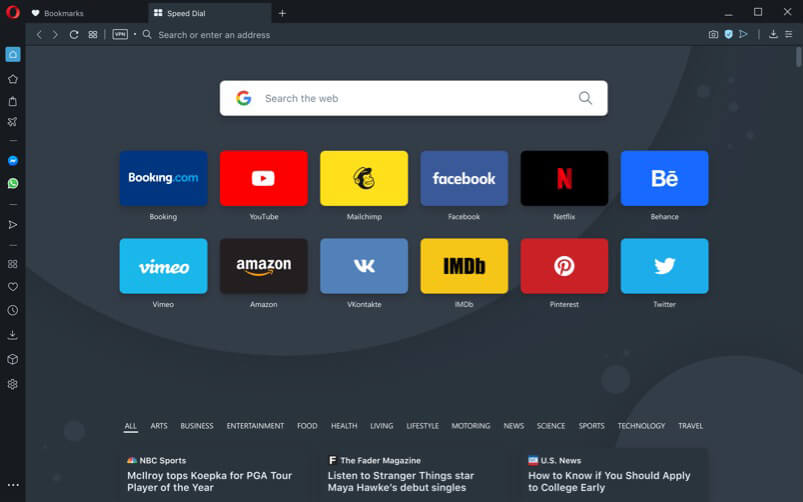 Reviews
Opera browser reviews
"The Opera browser has some new tricks up its sleeve. Notable recent additions include a built-in VPN, an ad-blocker, and a battery-saver mode, all of which make it well worth downloading."

PCMag
Sept 26, 2016
"The Opera team's real strength is clearly in dreaming up and implementing truly useful UI/UX features — Opera feels a little like a step into the future, as far as browser ergonomics go."

Ars Technica
Feb 26, 2020
"With good looks, impressive speed and a raft of extra features, it's very hard not to fall in love with Opera."

TechRadar
Sept 21, 2017
"Opera might not be the most widely used of web browsers, but it does have some really enticing features, including it free VPN and the sidebar which you can customize to provide just the shortcuts you need."

CNET
Jan 28, 2019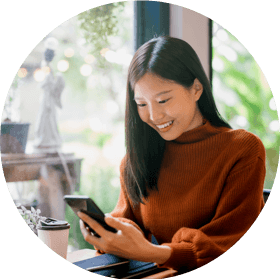 How to switch
You know when you don't want to do something, like go out, but a friend makes you and then you're really glad you did. This is one of those situations.
Let's switch
Opera browser
More in the Opera browser
Multitask easily
Opera's visual bookmarks, tab cycling, and customizable sidebar save time and keep you organized. Watch online videos? Don't miss our pop-out feature - a floating, moveable video frame that lets you keep working in other tabs or apps without missing any of the action.
Personalize your browser
Over 2,500 extensions make it easy to customize the Opera web browser. Download the extensions and themes you like from Opera's add-ons catalog to get the best browser experience with a personal touch. Get animated themes, change search engines, create hotkeys, and personalize your newsfeed.
Chromebook
Opera for Chromebook
The perfect browser for your Chromebook
Discover Opera's features
Get to know the Opera browser better and do more on the web!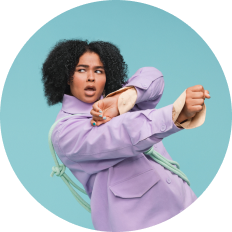 You deserve a better browser
Free VPN, ad blocker and Flow - Just a few of the must-have features built into Opera for faster, smoother and distraction-free browsing.