Opera'da gezinirken aynı anda mesajlaşma uygulamalarını kullanın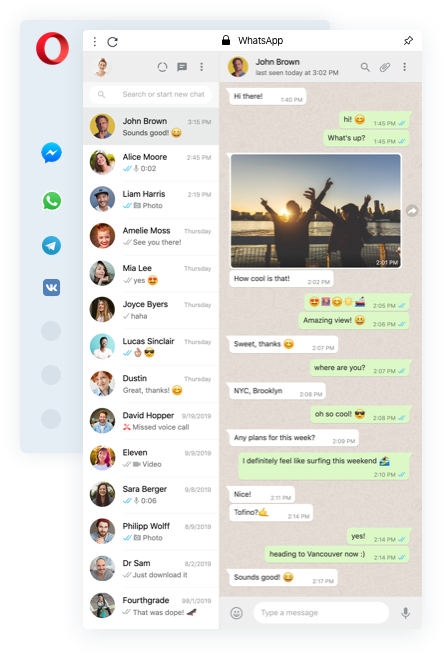 WhatsApp messenger lets you send texts and voice recordings, make phone calls, and share documents and other media with WhatsApp users in individual or group chat. Having WhatsApp messenger integrated with your sidebar in Opera means that you never miss a message.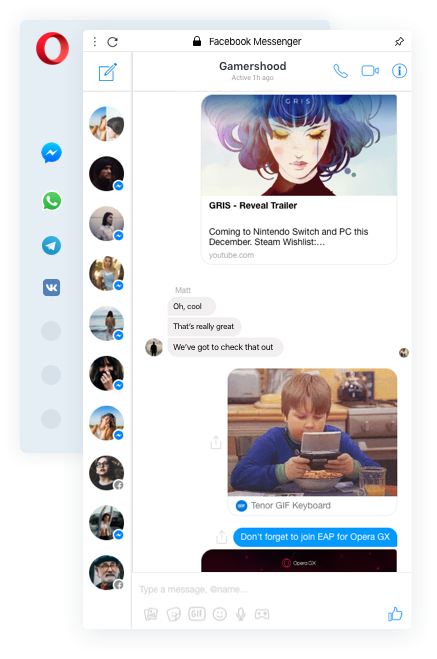 Facebook Messenger in Opera's sidebar
Stay connected with all of your Facebook friends in your Opera sidebar. Use Facebook Messenger for instant messaging and group chats, as well as sharing photos, videos and audio recordings. Receive notifications and chat with friends directly in your browser.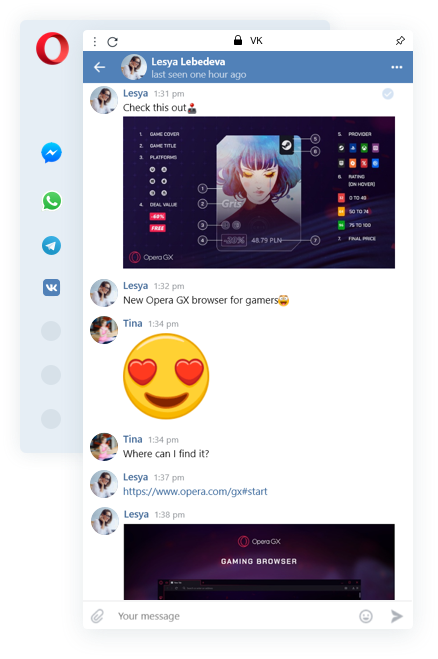 VKontakte in Opera's sidebar
VK Messenger, for the popular Russian social networking service, enables both public and private messaging. Users can communicate with friends and colleagues, send voice messages, and share photos and documents. This can now be done within your Opera browser, without switching apps.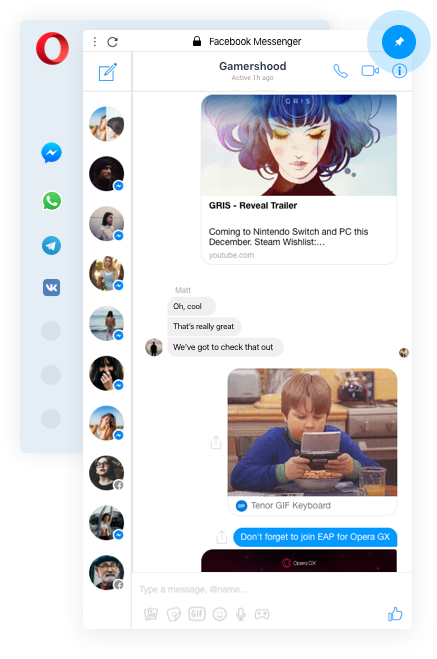 Pin your chats
Keep your messengers at hand by pinning them with the pin icon. Thanks to this feature, you can carry on chatting while browsing the web.
Never miss a message
Whenever a new message arrives, you'll get a notification directly in your browser. You can also mute or log out of the messenger from the three-dotted menu button above.
Opera'nın özelliklerini keşfedin
Opera tarayıcıyı daha iyi öğrenin ve İnternet'te daha fazlasını yapın!
Opera tarayıcıyı indirin ve İnternet'in keyfini çıkarın