In 2020, Opera GX performed an in-depth study of gamers' behaviors, attitudes and segments from a survey of almost 200,000 gamers worldwide.
The results are presented in our 48-page report which details both the total sample (Global) and presented in breakdowns by Brazil, Poland, Germany, Russia, the USA, and the UK.
Using advanced statistical methods to provide deeper breakdowns into very specific segments, the report also includes plenty of fun facts, many of which were surprising even to us.
---
---
Report 2020
What insights into gamers can you find in the 2020 gaming report?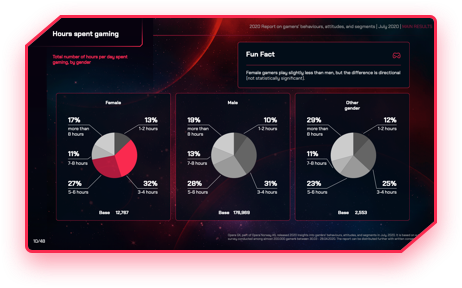 First gaming experiences
Preferred gaming genres
Number of concurrently played games
Hours spent gaming
Gaming attitudes
Gamers' expectations
Gamers' behaviors
Gamers' self-perception
Streaming habits
First gaming experiences (market comparison)
Gamers' expectations (market comparison)
Gamer segmentation: Average, Chilled, Youngster, Fancy, Ultimate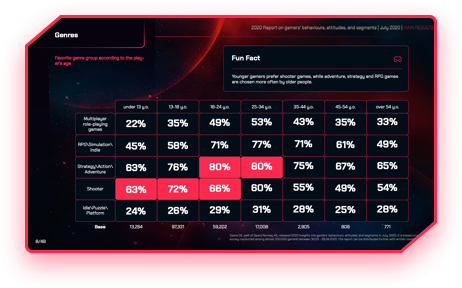 ---
Download your free copy of the report
---
Using Latent Gold for cluster analysis, 5 gamer segments were established: Average, Chilled, Youngster, Fancy, Ultimate. Want to check what type of gamer you are? Fill out the quiz below:
---
About Opera GX
Opera GX is the world's first browser designed specifically for gamers. The built-in CPU, network and RAM limiters help preserve resources for your system or gaming platform, and its design has won both the Red Dot and IF Design awards. Customization lets you change color and design elements as well as synchronize lighting themes with Razer Chroma integration.
The GX corner keeps you up-to-date on game releases, news and special deals, while Discord integration and Twitch built into the sidebar means you can easily follow streamers and receive channel notifications. Additionally, GX includes the unique features found in the Opera browser for computers, like a free VPN for privacy, integrated messengers and social media in the sidebar, and Video pop-out to watch videos in a separate floating window. You can download the Opera GX gaming browser for free and import your settings and extensions in a few clicks.